Best Physiotherapy Treatment at Home in Gurgaon at Affordable Cost
Physotherapy is now frequently received at home. It is especially helpful when the patient can not travel to a physical therapy clinic or when their condition is quite serious. In these cases, the physical therapist visits the patient to diagnose and treat the patient. Everything is done in your home, from discussions about various subjects about the patient's health and treatment objectives to the actual physiotherapy treatment process.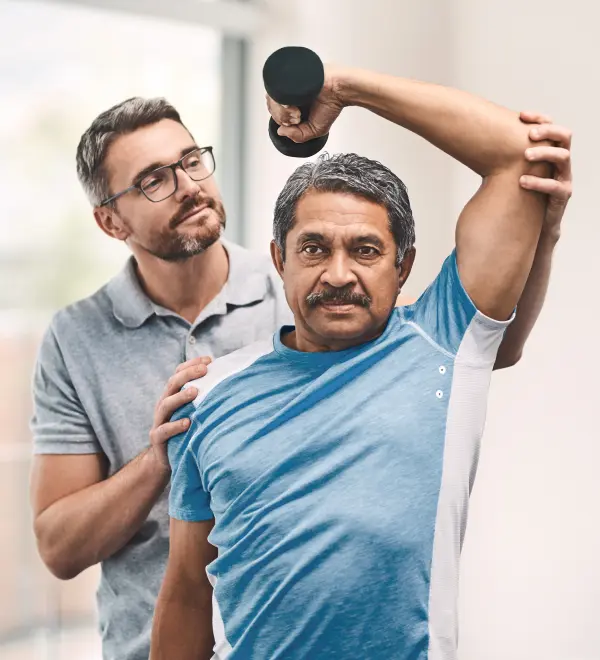 What is Physiotherapy at home?
Physical therapy, also referred to as physiotherapy, is a field of complementary and alternative medicine that employs manual therapy, exercise therapy, electrotherapy, biomechanics or kinesiology to assist patients in regaining, maintaining, and enhancing their physical mobility, strength, and function.
Physiotherapists are better qualified to help patients regain mobility due to their increased understanding of how the body works and clinical training in assessing, diagnosing, and treating disabilities. Physiotherapists can treat various injuries and conditions, including ligament issues, back pain, neck pain, and knee pain.
Patients with Parkinson's, paralysis, stroke, multiple sclerosis, and cerebral palsy can also benefit from physiotherapy rehabilitation services. Physiotherapists can also treat acute and chronic conditions by visiting patients at home.
Benefits of Gold Medal Physiotherapy at Home
Physical therapy has a proven track record of helping patients regain their health and enhance their physical function, strength, and mobility. Our physiotherapists will personally visit you and carry out physiotherapy in your home to further improve your treatment experience. There are benefits to receiving physical therapy at home in Gurgaon, such as:
provides comfort
offers individualized care
accelerate the healthy process
No problems with mobility
greater efficiency
Cost-effective
Support and supervision from family
When do you need Physiotherapy from us?
You can consider knee pain, back pain, and neck strain to be the curse of the contemporary lifestyle. If a certain type of pain does not go away over time or appears after performing a certain movement, seeing a physiotherapist or hiring one to come to your home is preferable. You can also benefit from our home physical therapy service for a convenient form of treatment.
Any of the following medical conditions can be treated with physiotherapy: neurological issues, neuromusculoskeletal issues, cardiovascular issues, and respiratory issues. .
Neurological physiotherapy at home
It focuses on neurological disorders that lead to sensation loss, muscle weakness, tremors, loss of balance, and other symptoms.
Orthopedic physiotherapy at home
This specialized approach focuses on curing deformities and treating illnesses with musculoskeletal roots. Bones, joints, muscles, tendons, and ligaments are all included in its scope of care and rehabilitation.
Cardiopulmonary physiotherapy at home
Cardiopulmonary conditions like chronic obstructive pulmonary disease or cardiac arrest frequently necessitate meticulous care to ensure proper recovery, especially at home, where patients can feel comfortable.
Pediatric physiotherapy at home
Recent injuries, congenital disabilities, delayed physical development, and some genetic conditions like cerebral palsy are all treated by pediatric physiotherapy.
Geriatric physiotherapy at home
It addresses conditions linked to aging, such as osteoporosis, arthritis, and other conditions. It is especially helpful because older adults would find it more challenging to travel frequently due to age-related concerns like weakness and instability.
Why Gold Medal Home Physiotherapy?
In the convenience of their homes, our physiotherapists provide care for patients. They assess, diagnose, and create different treatment plans based on the patient's needs. Physiotherapy sessions typically last 30 minutes, depending on the severity of the condition. Our specialists work with patients on basic and advanced movement exercises to increase their mobility.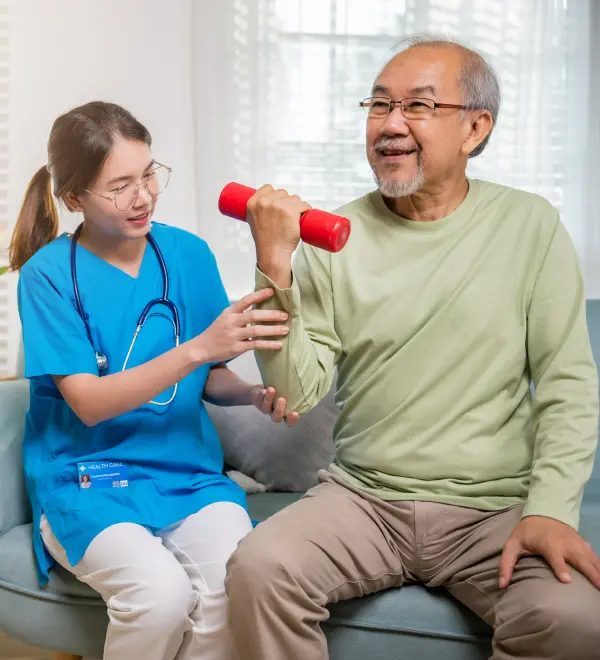 How to prepare for a Physiotherapy session at home?
At-home physical therapy sessions are designed to help the patient heal from a recent injury or a long-term illness more quickly. Here are some pointers to help you maximize your at-home session.
Because the physiotherapist might bring some small exercise equipment for your session, pick a spacious room in your house, conducive to exercise, well-ventilated, well-lit, and clutter-free.
Wear comfortable clothing. Make sure you are not wearing anything that limits your movement because your physiotherapist will need to evaluate your joints' stability and range of motion.
With your physiotherapist, go over your specific pain points and the level of function you hope to achieve.
Give your physiotherapist specifics about your pain, including the date it began, the nature of the pain, and the duration of the problem.
Keep a close eye on the exercises your physiotherapist does as you do, and ask questions if you have any. Maintain your exercise routine as well if you want the results you want.
Physiotherapy at home treatment
Manual therapy can be carried out at home by Gold Medal physiotherapists using joint mobilizations and massages. A thorough education session can teach massage techniques to patients or family members as well. These methods seek to lessen discomfort, increase range of motion, and enhance general wellness. Manual therapy provided at home is especially advantageous for patients who value their privacy.
To recognize, address, and prevent health problems, osteopathy involves moving, stretching, and massaging a person's muscles and joints. By positively affecting and balancing the nervous system, which is closely connected to all of the body's other systems, manual osteopathic treatment is very effective in treating various health conditions.
The alternative name for this procedure is transcutaneous electrical nerve stimulation (TENS). It is performed using a tiny battery-operated device (TENS device) that transmits low-grade current through electrodes placed on the skin's surface. This technique temporarily lessens the pain in the affected area. It is a sensible option for people who want pain relief without leaving their homes.
Acupuncture and dry needling
Tiny needles are inserted into the body's troubled areas to relieve pain temporarily. A licensed professional proficient in acupuncture and dry needling procedures can treat a patient at home if they are properly trained and follow all required safety precautions.
The application of taping aids the body's innate healing mechanisms. This method involves lifting the skin away from the connective tissues with adhesive tape, creating more space and improving lymphatic fluid movement. When applied correctly and under the guidance of qualified physiotherapists, taping can support sore joints or muscles, increase stability, and aid in pain management at home.
A type of manual therapy called soft-tissue instrument-assisted mobilization includes the Graston Technique. It is one of many manual therapy methods that gently scrapes or massages the skin with tools using a particular technique.
Our Doctor
Meet the team of Specialists
About Us
Quality Physiotherapy Treatment Near You With Super Affordable Price
Experience quality physiotherapy treatment at super affordable prices with our expert team. Improve your physical health and well-being today.
Easy Appointment
Online Consultation
Professional Staff
Home Visit
What qualifies a physiotherapist in Gurgaon as a good choice for me?

Physical therapy can help people of all ages with various health conditions, such as problems affecting the. injuries to the bones, joints, muscles, and soft tissues in the back, neck, and shoulder diseases of the brain or nervous system, such as Parkinson's disease, multiple sclerosis, or stroke-related movement problems

Do you provide patients with services covered by medical insurance?

Gold Medal Physiotherapy is acknowledged as a registered provider by most health insurance companies.

When should I consult a physiotherapist near me for advice?

If you have pain and mobility issues, it is quite common for us to get by using over-the-counter painkillers and ointments. We often put off seeing a physiotherapist until the doctor has recommended them or the pain is intolerable.
We're here to help you
Make An Appointment And Get Treatment
Regain your mobility and embrace a pain-free life. Book your personalized physiotherapy appointment today!
Schedule a consultation with our experienced physiotherapists today!
Start your journey to recovery and well-being with our expert therapists
Gold Medal Physiotherapy is trust by more
then
15000

healthy patients
Fill the form
Book your appointment today and take the first step towards a healthier, happier you. Our team is ready to help you feel your best.